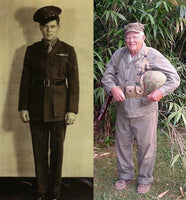 YOUR ONE STOP HISTORY SHOP
Your one stop history shop. If we don't have it, we can usually help you find it.
The History Company is dedicated to providing a historical and educational experience for all. We sell original items from the Civil War to current day, and have a large selection of military books ranging from the American Revolution to Iraq. We carry a wide variety of Civil War and WWII reenacting gear, as well as other time periods such as the Old West and Vietnam.
Also onsite is the Southeast Veterans Museum. With exhibits throughout the store and within the main gallery, a trip to The History Company is more than just a shopping trip. It's a trip through America's military past.

Stop in and see us, check us out on Facebook or just give us a call, and thanks for visiting our website.
2949 Lafayette Rd
Fort Oglethorpe GA 30742
(423) 290-6639
*Purchases are shipped Mon-Fri during business hours only.
*Georgia residence are subject to sales tax.
*All items are available in storefront in addition to online store.